Welcome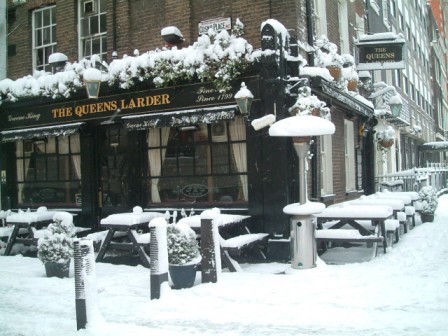 The pub takes it's name from Queen Charlotte, wife of the 'Mad King' George III, who was receiving treatment for his apparent insanity at a doctors house in the square.
The Queen assisted in the nursing of her husband, by cooking for him and rented a small cellar beneath the pub, where she kept special foods for him.
We like to think that we are continuing this great tradition of catering for our clientele in a warm and very personal way. Of course, we are not suggesting that any of our punters are mad - quite the opposite!
Queens Larder is a very small and intimate venue, characterised by its nearly private, club-like atmosphere.
We dare say it is the cosiest place to have a pint in the wider neighbourhood, with its warm interior, a large outside seating area and an upstairs function room. We are also very friendly to well behaved dogs and will be happy to provide your canine companion with refreshment as well! Please, don't be a stranger, and drop in whenever you are close by. Our wonderful staff will be more than happy to serve you and tell you about the local area.
The Queens Larder pub - 1 Queen's Square, Bloomsbury, London, WC1N 3AR: Email; Telephone: 020 7837 5627; susanbowler2004@aol.com